Introducing our latest products, the ETS Vaccine Carrier in 12L and 17L for vaccines that need a longer transit time!
Kudos to the Malaysian government for reaching its goal of having 80% of adult Malaysians fully vaccinated.
With this milestone in hand, major PPVs (Pusat Pemberian Vaksin or Vaccination Centers) had begun closing in stages starting from the Klang Valley as the National Covid-19 Immunisation Programme (PICK) proceeded to the next phase of its implementation.
ETS has been constantly innovating throughout the past year, from new freezers, to cold boxes, digital thermometers, customised mortuary refrigeration and accessories, portable freezers and more.
Our latest products are in line with the next phase of the PICK as private hospitals and private general practitioners (GPs) are now the front-runners for maximising the public's access to vaccination.
The ETS Vaccine Carriers in 12L and 17L are customised cold boxes equipped with a digital thermometer most suited for the transport of vaccines, medicines, insulin and other temperature-sensitive drugs. They are rated for ISO/IEC 17025 and each carrier comes with a calibration certificate for the digital thermometer.
Weighing in at 2.5kg, our latest 12L Vaccine Carrier comes ready with a tray addon, a clapboard for separation of stored items, and a carrying shoulder strap for easy portability. The external digital thermometer display provides easy access temperature monitoring to ensure that precious vaccines or medications stay within the optimum temperature range.
The 12L Vaccine Carrier has a maximum load of 8kg. It also comes with 8 ice packs, allowing the contents of the cold box to be kept at optimum temperature for at least 24 hours. To extend the cooling time, more ice packs would be required.
Click here to download the product specification for the 12L Vaccine Carrier.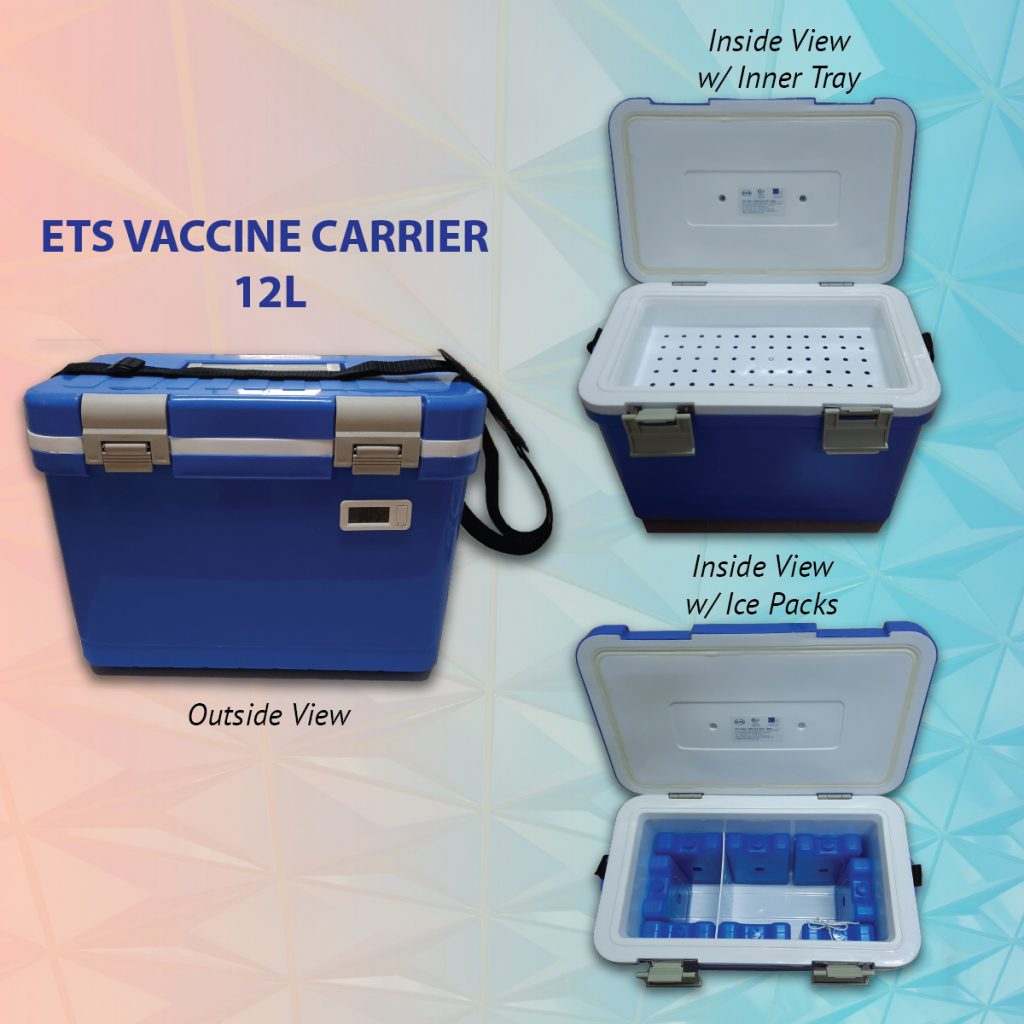 In comparison with the 12L Vaccine Carrier, the 17L Vaccine Carrier weighs in at 3.2kg with a maximum load of 15kg, perfect for transporting a larger amount of vaccines, medicines, insulin or temperature-sensitive drugs.
Similar to the 12L Vaccine Carrier, the set also comes together with a digital temperature display and sensor, an inner tray, and 8 ice packs to extend the cooling time to 24 hours. As before, the cooling time can be further extended with extra ice packs.
The 17L Vaccine Carrier unit is much larger and with a heavier maximum load, so it comes equipped with a sturdy handle instead of the carrying shoulder strap. A 3-digit security lock is also provided as an additional security feature to prevent theft of the important cargo.
Click here to download the product specification for the 17L Vaccine Carrier.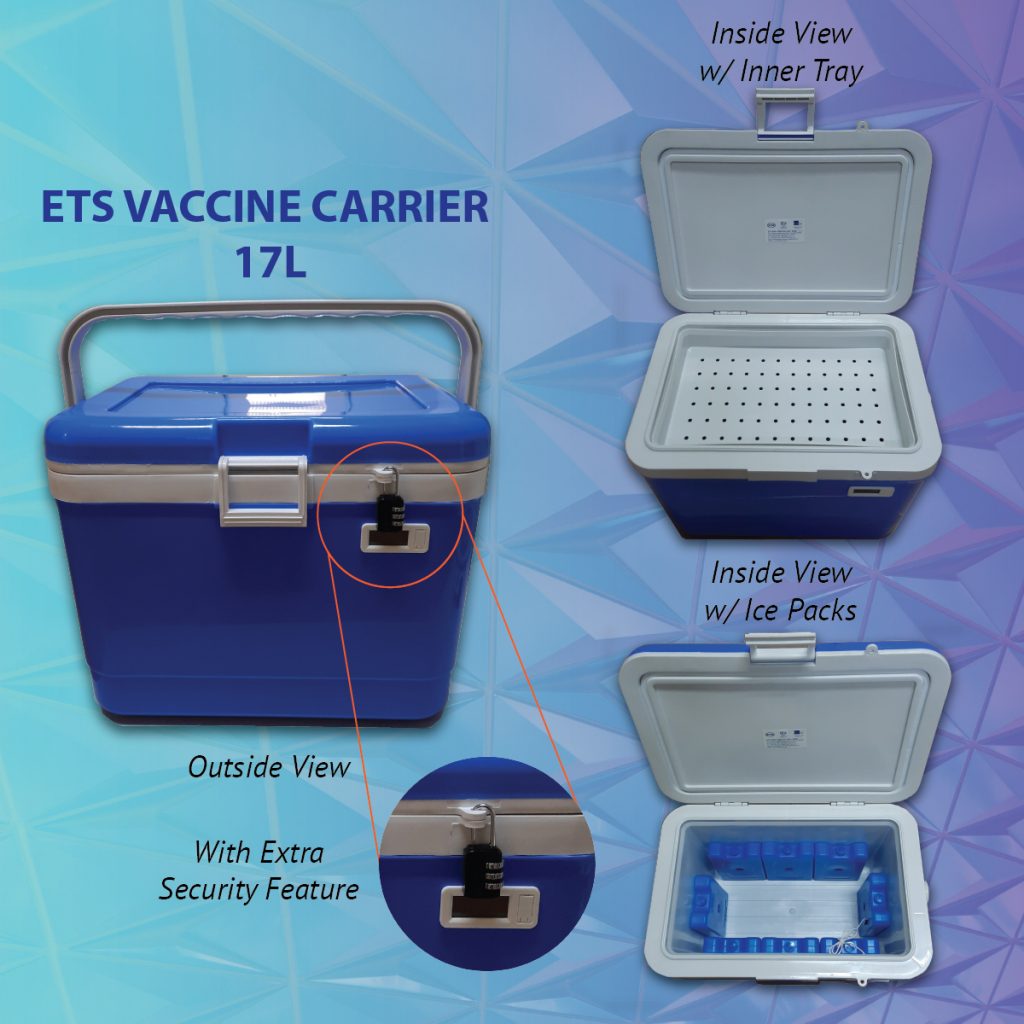 Click here to view our entire product catalogue or learn more about our Pharmaceutical grade Refrigerators & Freezers & Digital Thermometers & Data Loggers.
As an ISO 13486 Quality Management System for Medical Devices and GDPMD certified company, we have over 28 years of experience in the design, manufacturing, and development of medical blood bank refrigerators, pharmaceutical grade refrigerators and freezers, and vaccine ice-lined storage units, as well as medical services solutions, especially for cold-chain logistics and after-sales service and repair, loaner units and OEM services.