We showcased our products and solutions at the first ever China International Export Expo (CIIE) held at the Shanghai National Exhibition and Convention Center from November 5 to 10, 2018. According to the CIIE Bureau, which organized the event, the expo brought together 172 countries and regions, and international organizations, more than 3,600 exhibiting enterprises, and over 400,000 buyers from home and abroad, coming up to over one million attendees.
Covering an area of 300,000 square metres, the event was divided into 71 pavilions encompassing 82 countries (including China) and including three international organizations — the World Trade Organization, United Nations Industrial Development Organization, and International Trade Center.
At the closing of the six-day long event, the CIIE Bureau announced that deals worth a total of US$57.8 billion had been secured. The wave of participation in the first China International Import Expo reflects the influence of the Chinese market, the attractiveness of China's opportunities and the appeal of the Chinese program.
We take home the valuable experience and knowledge gained, together with the strong support from MATRADE.
Our thanks to MITI Minister Datuk Darell Leiking for dropping by our booth at CIIE 2018!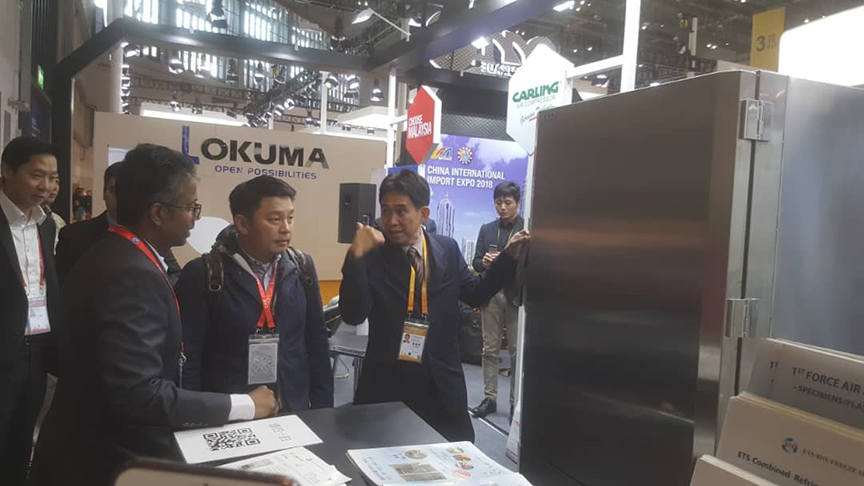 About CIIE 2018
For more information about the CIIE 2018, please visit https://www.ciie.org/
or watch this video from CCTV-1 China: http://tv.cctv.com/2018/10/31/VIDEeBcE6xiftdNoonJKUWoG181031.shtml