HORIZONTAL LAMINAR FLOW CABINET
A COMPLETE AND USER FRIENDLY TOOL FOR THE PROTECTION OF HIGHLY SENSITIVE PRODUCTS
The internal design, the air flow aerodynamics and monitoring, the special H14 filter with Micromesh downstream equalising plenum, guarantees the highest performances at the most stringent safety levels and operator comfort.
High efficiency washable polyurethane prefilters
H14 class HEPA filter
Electronic control air speed
Working surface in stainless-steel
Side panels in tempered glass
Micromesh membrane on HEPA filter downstream surface for perfect airspeed distribution
Up to four plugs installable near the light on the ceiling of the cabinet to leave working surface free
Sizes: 1.2, 1.8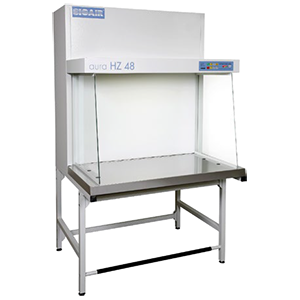 Lateral Flow Concept side walls
VERTICAL LAMINAR FLOW CABINET
This full sized 1.2 m cabinet provides plenty of room to work with sensitive products in a clean environment.
Electrically operated front glass
Tight seal closure system
White painted steel working area to increase lighting
Stainless-steel working surface
Sizes: 1.2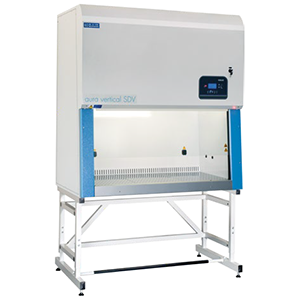 VERTICAL LAMINAR FLOW CABINET
WHEN SPACE MATTERS
This compact benchtop laminar flow cabinets provide all you need to keep your products clean and protected without taking away your lab space.
Centrifugal Motorblower with digital inverter for optimal performance
Elapsed time-meter
Exhaust filter
Removable perforated work surface and back wall of the work chamber made of AISI 304 stainless steel
Cabinet outer surfaces made of cold rolled steel with paint finish
Front and side panels in 5mm thick tempered glass
H14 class HEPA
Exhaust filter (or pre-filter) type Filtrete® with a gravimetric efficiency higher than 99% on 3 μm particles
Optional cover with UV light (includes safety switch to turn off UV if cover is removed from the cabinet)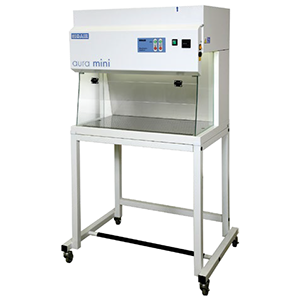 ---
INWARD air barrier. In this configuration an air barrier flows through the front opening and is recirculated with the downflow air by a motor blower. 70% of the air is returned to the work area through the main HEPA filter and 30% is exhausted into the environment through a Filtrete® exhaust filter with gravimetric efficiency of 99% on 3 μm particles. In this configuration an excellent product protection is ensured, as well as an outstanding
containment.
---
OUTWARD air barrier. In this case the air is sucked through the Filtrete® prefilter, mixed with the incoming recirculating air and then filtered through the main HEPA filter into the work area: here 30% of the air is exhausted through the front opening and 70% is recirculated. This configuration ensures the highest product protection. In the OUTWARD configuration this unit can easily be used as an "active PCR" cabinet for DNA carry over blocking.
DNA CROSS-CONTAMINATION CONTROL ENCLOSURE
These state-of-the-art PCR cabinets are specially designed for preamplification sample preparation in controlled environment in order to prevent DNA carry-over. Any aerosol generated during the handling of the post amplification samples cannot enter the cupboard; any molecule of DNA herein contained is subsequently neutralised with the help of UV radiations.
Passive PCR enclosure (non ventilated)
Fluorescent light turns on automatically when opening the front glass or when UV lights turn off (user selectable)
Digital timer for UV lights with memory of the last setpoint
100% UV-safe
Front glass divided in three hinged sectors
Internal foldable shelf in glass
Working surface in chemical resistant polyethylene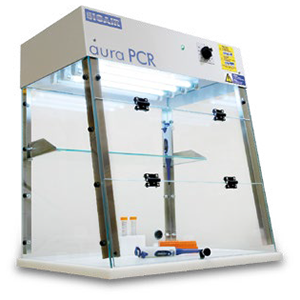 Working area walls in tempered glass 6 mm thick