Developed to satisfy the most various needs of every customer, the Modulair 1400 system allows customized configuration of contamination free areas by properly connecting the modular units.
Each module is an autonomous laminar flow generator that guarantees an ISO 5 air classification as indicated in ISO EN 14644-1.
The Modulair units are composed of a base module that can be completed with a series of accessories and components that allow to create a customized configuration.
The base module has not only filtration and ventilation capability but also has a structural function that reduces the number of standing supports or suspension points of the final assembled system.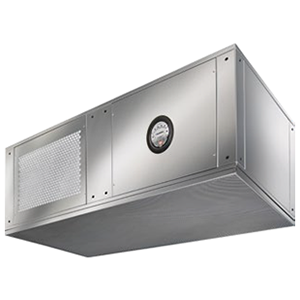 Safe SP cabinets have been designed to provide a sterile environment for automation robots. The airflows have been designed according to EN12469 specifications in order to ensure protection for product, operator and environment.
The features of the Safe SP series are designed to provide ample space to fit and work with the robots, while keeping external size to manageable values in order to fit inside every lab!
The cabinets are shipped disassembled in various components and are reassembled during installation!
Maximum height < 270 cm (including support stand)
Lateral exhausts, allows installation even with minimal space between cabinet and ceiling
Lowered liquid retaining work surface: height from ground 848 mm
Removable front barrier grid for easy robot installation and maintenance: height from ground 1000 mm
Removable side windows for easy maintenance of the robot
Front aperture in operation: 250 mm; with front glass fully opened and removed front barrier grid: 915 mm
Sizes: 2.4, 2.8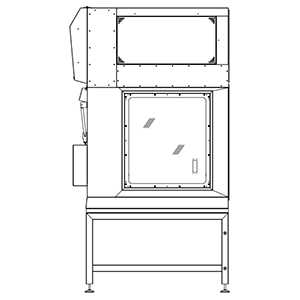 WALK-IN POWDER WEIGHING CABINET
The Safebooth is a down flow booth system for powder containment in sampling and dispensing operations, a containment solution for the weighing, the handling and the dosing of chemical and pharmaceutical not sterile and not active products with the operator inside the LAF (laminar air flow) area.
The standard unit may be useful to reach a containment level better than 100 μg/m3 depending on the pharmaceutical process; with the use of safety barriers it is possible to reach a containment value better than 30 μg/m3.
Custom size
Inner air cleanliness: ISO5 according to ISO EN14644-1
10% exhaust, 90% recirculation
Cooling coil to avoid temperature increase in the work area
Configurable prefiltration system (up to H13 HEPA filters)
Dual H14 HEPA main filtration system (LAF and Exhaust)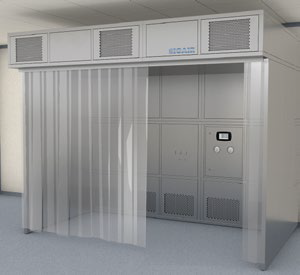 PASS-THROUGH HATCHES ENCLOSURE
Pass-through units protect critical environments while allowing transfer of materials to or from adjoining rooms. Materials can be transferred in both directions through interlocked doors. SafeThrough units can be passive or provided with one or more sanitization cycles (LAF; U.V.; vaporized H2O2; external VHP system).
Active ventilation, HVAC or Non-vented type
Fully made in stainless-steel AISI 304 or AISI 316
Chamber surfaces and shelves with radiused corners all around
Choice of shelves surfaces: perforated type, or liquid retaining solid tray
Stainless-steel framed doors with multilayer safety glass 6 mm tick view screen
Wide selection of body dimension