Medilox MS-4000 is an equipment generating high-level disinfectant internationally certified by European CE (ClassⅡb) and the USFDA after the company has developed Medilox generating Hypochlorous acid (HOCl) generated from immune system of human body based on the patented new technology of the company in order to improve pathogenic infection control and treatment environment.
 Medilox MS-4000 is equipment generating high-level disinfectant which sterilizes over 99.9% of all bacteria in less than 30 seconds including tubercle bacillus, MRSA, general bacteria and viruses.
 ​Medilox MS-4000 is a product designed to accommodate all requirements of hospitals and clinics and, in particular, it is optimized to supply disinfectant to automatic cleaners for endoscopes.
| Model name | MS-4000 |
| --- | --- |
| pH | 5.0∼6.5 |
| Generation Time | 10min |
| Power consumption | 60Watt |
| Condition for water supply | Hardness: Raw water less than 80 ppm |
| Concentration | 50~800ppm |
| Capacity | 4L |
| Power source | 100∼240V, 50/60Hz, 10A |
| Standards | 330 × 200 × 92mm |
| Additive solution | Annexol 20㎖ |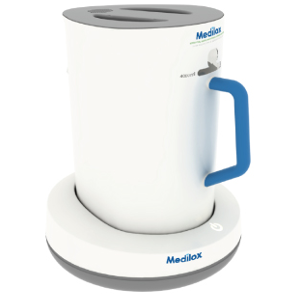 Features of Product

Purpose of Use

How to Use
It is either to disinfect by depositing various surgical instruments and other supplies after placing non-toxic high-level disinfectant generated from Medilox MS-4000 or to disinfect by spraying the target surface after containing the disinfectant in a spraying container.