Conjugated enzyme detergent
Secretions including blood, protein, fat and mucus of human body are deposited and attached to the surfaces of medical instruments or endoscopes, and biofilm from such secretions cannot be cleaned with surfactant only. Detergent containing 3 types of conjugated enzymes, such as Protease, Amylase and Lipase, increases sterilization effects by promptly and effectively separating and dissolving organic matters, thereby ensuring safety of high-priced medical instruments. 
Pre-sterilization/Primary sterilization
Medical instruments and equipment, in particular, endoscopes require disinfection level close to sterilization to prevent pathogenic infection not only for medical staff but also for patients. The use of pre-sterilization/disinfection detergent added with conjugated enzymes effective in sterilizing even tubercle bacillus during the washing phase from the entire disinfection procedures will contribute to enhancing disinfection effects and preventing cross infection during storage or conveyance.
| Name of Product | Medizyme Plus |
| --- | --- |
| Purpose of Use | Pre-sterilized conjugated enzyme detergent for medical instruments |
| Product Specification | 1.6L, 3.2L |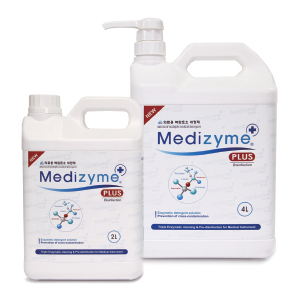 Features of Product
Purpose of Use

How to Use