Our Low Temperature Upright Freezers are designed and fabricated to provide specialized cold storage environment/long-term preservation for enzymes, vaccines, biological tissues and organs, reagents, as well as other temperature-sensitive materials at stable low temperatures range from -10°C to -40°C. We offer various unit sizes, ranging from 100L to 1500L, includes digital temperature touch screen display, standard LED alarm system, inner doors for added security, and swivel castors. Suitable for scientific research institutions, hospitals, laboratories, sanitation and anti-epidemic station, electronics, chemical industry, machinery industry, fishery industry, etc.
Features:
User-friendly design and easy-to-manage layout
Precise microcomputer temperature control
Auto-defrost
Forced-air circulation for enhanced temperature stability
Easy-to-read LED temperature display
Visual and audible alarm alerts
Low-noise compressor
Large temperature ranges for storing goods: from -10°C to -40°C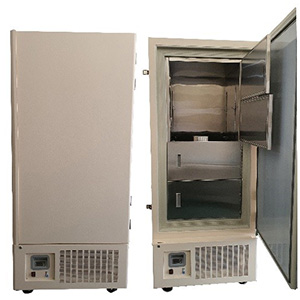 VF 40U-500/ 600/ 700/ 800
Model
VF 40U-500
VF 40U-600
VF 40U-700
VF 40U-800
Dim. Ext (mm) W x D x H
740 x 800 x 1950
940 x 900 x 1900
1090 x 1010 x 1860
1240 x 1000 x 2000
Dim. Int (mm) W x D x H
540 x 650 x 1510
760 x 695 x 1180
850 x 735 x 1170
1000 x 700 x 1335
Capacity
500L
600L
700L
800L
Internal Chamber
Stainless Steel
External Chamber
Epoxy Mild Steel
Temp. Controller
Temp adjustable, LED display
Internal Air Circulation
Direct
Refrigerant
R404a CFC Free
Shelves
3 nos.
3 nos.
3 nos.
3 nos.
Door Lock / Castor
1 no. / 4 nos.
1 no. / 4 nos.
1 no. / 4 nos.
1 no. / 4 nos.
Comp. Recip. Hermetic
280W
280W
280W
280W
Power Voltage
230Vac 50Hz Single Phase (60Hz for others)
Standard LED Alarm System
- Hi/Low Alarm
√
√
√
√
- Power Failure
√
√
√
√
Safety Features & Certification
ISO 13485, Electric Safety Test (EST) IEC 61010-1 (2010), GDPMD, ISO IEC 17025
**Note: With MDA Class A certificate (Model: VC)
**Optional: Temperature -65°C / Capacity may vary according to the loading preferences and contents. Can be customised.